$14000 Christmas Bonus – AVATrade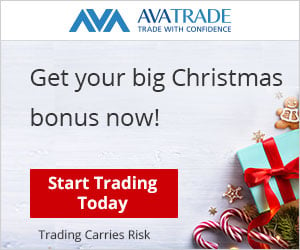 AvaTrade is in the holiday spirit giving a generous bonus.
How much will you get? Use the calculator to the right and find out.
This promotion is valid until December 31, 2017
The minimum deposit for this campaign is 100
The maximum bonus that can be received is 14,000
This promotion is available to USD, EUR, AUD and GBP base currency accounts
This promotion is valid for new and existing clients on their first deposit during the promotion period only.
Bonus will be credited into your trading account on completion of your deposit, and after identification documents are submitted and verified.
Bonuses will be credited according to the trading platform's base currency.
All bonuses are based on the current table.
Japanese Yen Accounts – bonuses are calculated according to the official USDJPY exchange rate.
In order to withdraw your bonus, you are required to execute a minimum trading volume of 10,000 base currency for every 1 base currency bonus within 12 months. If you fail to trade the required amount during this time frame – your bonus will be cancelled and removed from your account.
This promotion can be added to past awarded promotions by AvaTrade; their required trading volume will be combined, and you will need to trade the total volume in the first promotion's 12 months. Should you fail to complete the total required volume, the first bonus will be removed from your account, the combined volume will remain unchanged and the count will continue.
Clients from the following countries are not eligible for this promotion: Iran, Vietnam, Pakistan, China, Bangladesh, Malaysia, Thailand, Macao, Indonesia, Mongolia, Taiwan and Hong Kong.